Masterclass: Natascha Nikeprelevic > University Mozarteum Salzburg
> Implicite Overtonesingingtechnique of STIMMUNG by Karlheinz Stockhausen
> 26th/27th of January 2019
> Institute for New Music
Please notice: the Seminar is booked out.
Copyright Graphik: International Phonetic Association, University College, London 1964
New: SEMINAR: Natascha Nikeprelevic: crystal-clear overtones
Join an Overtone-Weekend by and with Natascha Nikeprelevic
> 13th – 15th of April 2018 – St. Gallen, Switzerland
Apply now ! – Information & Application by email.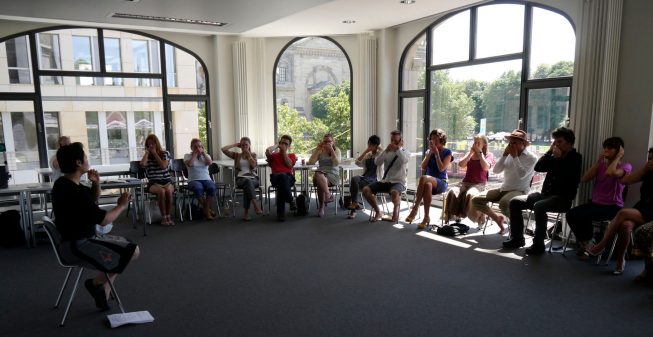 > Please send your application mail with name, age, profession and your individual motivation to: gisela.ivu@gmx.de. The participation fee is Euro 330,-. The fee allows access to all teaching unit (4 x 3 hours = 12 hours).
> The seminar starts on Friday at 6 pm and ends Sunday at 1 pm.
>
The seminar takes place at Forum Pacific. This is located directly at the futuristic "red square", in the heart of the beautiful historical city center of St. Gallen. The famous monastery is within walking distance. In a few minutes you can also go by stairs or the rack railway to the green oasis of the city (forest, meadows, pond) with stunning views to Lake Bodensee.
> Accomadation: For a small fee Forum Pacific profides an
overnight stay in the seminar room (shared space with bath and toilet). You have to bring towels, sleeping pad and sleeping bag yourself. Please ask for it via mail (only few places available).

There is a full-equipped kitchen for self-catering available

.
> A small group allows individual work.
> Teaching languague will be englisch or/and german.
As soon as you are accepted as a participant you´ll receive more detailled Information.
Welcome !
NEW VIDEO: Natascha Nikeprelevic: overtone teach-in
Rehearsal with vocal sextet & drums. Dance Centre Zagreb, Croatia – September 2017.

Video: Workshop at University of the Arts Taipei, Taiwan (June 2009)
Video Teaser: DVD The Dao of Overtone Singing
With this Dao, Overtone Singing is made easy by Natascha Nikeprelevic. A true disciple of Michael Vetter, Natascha revealed in this documentary excerpt the four secret routes to the world of overtones: Yes, with this method everyone can enjoy his/her rich overtones! (Prof. Chung Mingder, TNUA, Department Theatre)
Learn Overtone Singing:
"Nataschas method and explanations, taken from Michael Vetter's groundbreaking work as a performer and teacher during the last 30 years, are lucid and effective. The DVD gives a concise version of several days of workshops by Natascha, highlighting the most important instructions. She explains them clearly in English, and there are Chinese subtitles." (M. van Tongeren)
DVD: workshop excerpt and Performance "allOne" at Taipei National University of the Arts, June 2009. 84 minutes, english/chinese
> Buy DVD
ACCADEMIA CAPRAIA
School for Intermedial Improvisation
Music – Painting – Theatre
Nikeprelevic
The art of improvisation, the creative contact with the unpredictable, is a program of the Accademia Capraia. In our "intermedial" method we connect different sensuous attempts with each other to provide the play with the unpredictable as a poetic, comprehensive form of expression.
Since 1996 I strictly devote myself to the subject "intermedial improvisation". In addition I have specialised in the realisation of concept-notation and in graphic-notation of music and musical theatre as well. "Intermedial" means that improvisation concerns not only the acoustic music, but all conceivable kinds and ways of creative movement.
In my work I concentrate on voice and body as instruments available to everybody in any time. In my seminars and single lessons we explore our improvisal intuitive potential and develop ways for its poetic realisation.
My seminars are for everybody who wants to discover his/her voice in communication with the body in a new way. Beginners as well as advancers, laymen and professional musicians, singers, actors, composers and dancers are warmly invited moreover.