> Next Seminars: ask for dates & infos: mail to: vocalist (at) natascha-nikeprelevic.de
VIDEO: Natascha Nikeprelevic: overtone teach-in
Rehearsal with vocal sextet & drums. Dance Centre Zagreb, Croatia.

Video: DVD – The Dao of Overtone Singing (Trailer)
Natascha's method of overtone singing is outstanding and is made easy with the help of this DVD. As a true student of Michael Vetter, Natascha revealed the four secret ways into the world of overtones in this documentary excerpt: Yes, with this method everyone can enjoy their wealth of overtones! (Prof. Chung Mingder, TNUA, Department of Theater).
Buy the DVD here: only a few copies available.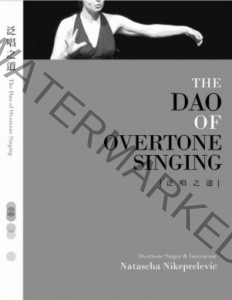 Learn Overtone Singing:
"Nataschas method and explanations, taken from Michael Vetter's groundbreaking work as a performer and teacher during the last 30 years, are lucid and effective. The DVD gives a concise version of several days of workshops by Natascha, highlighting the most important instructions. She explains them clearly in English, and there are Chinese subtitles." (M. v. Tongeren)
DVD: workshop excerpt and Performance "allOne" at Taipei National University of the Arts, 84 minutes, English/chinese.