Vocalist Natascha Nikeprelevic is a performer-composer, overtone singer and interpreter of contemporary music.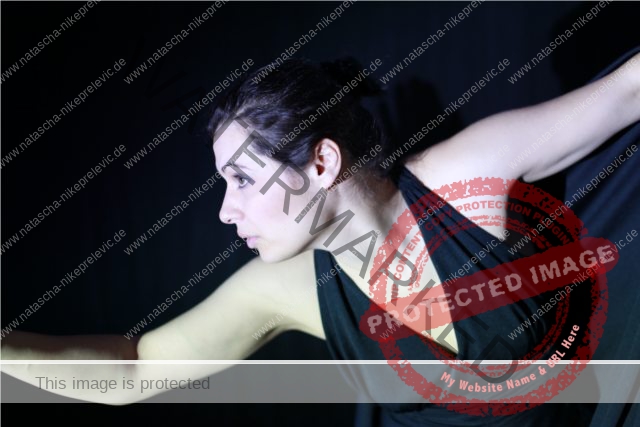 She has a vocal range of five octaves (F1 to F6) plus the ability to sing three voices at once (sub-octave with overtone singing from number 1-32). Natascha combines that with all sorts of extended vocal techniques including noises. The coherency of voice and movement is her major subject on stage. Beside she is doing graphic notation, concept-improvisation and object theatre. She is also a specialist for the plus/minus scores of composer Karlheinz Stockhausen.
For six years she studied Intermediale Improvisation: Music, Painting, Theater at "Accademia Capraia" in Italy and was a master student of Michael Vetter.
For the study Natascha received a 6-year scholarship of the city of Cologne, Germany. A further eight years she taught there as a specialist for overtone singing, extended vocal techniques and structural theatre.
"Natascha Nikeprelevics is the best overtone singer I know: her cheering overtone cascades are based on a root note that sounds, as if there was singing even a tenor, but also this is her voice, which reaches up far from the bottom up" (Joachim E. Berendt)
Since 1997 Nikeprelevic is active as a vocalist on international stages. The intermedial focus of her studies opend a diverse field of activity. In the context of fine arts, theatre, music, radio drama and film Natascha performs as a soloist, in several duo-formations and in artist collectives. She intensively and critically reaserches the topics: Poetry of a transverbal musical language, Improvisation, Interaction of Intention and Coincidence and Equality of object and subject.
Her music, always improvised, lives out of the power of contrasts: amorphous sound structures, noises and bizarre atonality turning smoothly into harmonic melodies and overtone arias. The result is an organic-flexible sound essence. Thereby Nikeprelevic catapults the instrument voice acoustically on the versatile level of electronic sound generators.
"Natascha Nikeprelevic delights the senses with her art, you would think there were electronic engineers at work." (Michael Rieth, Frankfurter Rundschau).
Her vocal material she recruits from all what sounds. The Audible she expands into a performative space theater. As an extract she brings to life a very own cosmos only by her mere physical presence and her voice a cappella. Abstract word structure between language and sound, free-of-reason actions in the context of structural lucidity, bizarre and poetic association arise. On the basis of her poetic-dadaist vocalism Natascha Nikeprelevic developed a new form of musical theatre as a smooth transition between the genres of dance, music, performance and pantomime.
"Natascha Nikeprelevic is one of the most interesting vocal soloists of younger generation." (Prof. M. Herchenröder)
The expressive sound and the many styles of her vocal music are documented in almost 30 video works. You can hear Natascha furthermore on 13 full-length soundart broadcasting productions of Deutschland Radio Berlin and WDR Cologne. Thanks to the mixture of archaic purism and experimental openness her Performance-Videos have more than 7 million views. Natascha has nearly 25.000 followers on a social media platform.
In 2016, the Good Magazine (USA) mentioned Natascha Nikeprelevic as the "premier overtone singer in the world". The online article resulted a response of 90.000 video views in just one day.
The book: 'Hardcore, Punk, and other Junk: Aggressive Sounds in Contemporary Music' (Lexington Books, 2015) called Natascha – together with Henri Chopin, Bob Cobbing, David Moss, Gil Joseph Wolman, Luciano Berio – an artist, who gave "outstanding contributions to explore the possibilities of the human voice".
Relevant for her theatrical maturity was a one-year internship at the Pina Bausch Tanztheater Wuppertal.
Before she is specialized entirely on music and vocalism, Natascha performed in several roles as a dancer and actress.
She made her debut at age 19 in Hölderlin's work: "Empedokles" with the double role: Pausanias / Panthea. As a dancer she realized the premiere of Karlheinz Stockhausen's opera 'Wednesday from Light' in the role of 'Luzikamel'.
Other significant inspirers were Peter Brook, Robert Wilson, Eugenio Barba and the Butoh legend Kazuo Ohno, with whom Natascha worked in a joint program on Jooksan Dance Theatre Festival in Seoul (Korea). Natascha has been invited several times by the Odin Teatret of Eugenio Barba for workshops and performances.
"One has the impression that the voice-artist Natascha Nikeprelevic lives in another world. She reacts on all around her immediately. Her improvisational clarity, speed and wittiness are breathtaking. The universe she builds up with her peculiar hand movements and her almost inhuman voice is full of cheeky playfulness and poetic beauty. "(E. Waalen)
In May 2019 she premiered 'Oracle for voice and tape' at Ensems Festival in Valencia, Spain. Her piece 'Divine Speech' was realized at Lunalia Festival in Mechelen, Belgium. In July 2017 Nikeprelevic was invited to perform at famous Grottensaal of Schloss Sancoussi during Musikfestspiele Potsdam Sansoucci. In Autum 2017 she staged 'Oracle Version I' as a surreal, dadaistic musitheatre for voice a cappella and tools (robe, fabric, onions) at sounded bodies Festival in Zagreb, Croatia.
In June 2017 the WDR Radio Cologne broadcasted her full lenght evening Production "Phonemonal". Concept, grafic notation, voice: Natascha Nikeprelevic – electronic composition: F.X.Randomiz. "Phonemonal" was selected by the WDR for the Karl-Szuka Radio Award 2017.
In addition to their musical collaboration in the Experimental and New Music scene Natascha Nikeprelevic and F.X.Randomiz have been working for some time now as 'fu acune' on music tracks at the edge of Pop. 'fu acune' is the postmodern synthesis of pop and new music, dance and avant-garde.
Natascha's voice between bizarre noise, overtones, textures without semantics and polystylistic vocalism and Randomiz's twisted and playful dealing with sound merge perfectly. Still crazy enough to not jump directly into the charts, dance rhythms and catchy melodies invite for much more than just a slight nod. (Olaf Karnik, 2014)
In May 2013 Natascha Nikeprelevic implemented a large-scale project as a synthesis between space and music in the exhibition hall of BBK in Cologne. Two weeks she was there as an Artist in Residence. Over the entire duration of the exhibition a multi-channel sound installation by F.X.Randomiz was to be heard. Several live concerts and visual space-installations formed an intermedia happening. As a guest-artist Michael Vetter was invited to exhibit his graphic scores.
In "Duo Transverbal" Natascha focused together with Michael Vetter († 2013) consistently on the implementation of improvisational concepts. For concerts, seminars and projects they travelled the world. In the period from 1998 to 2013 the Duo published 16 CD productions and 6 radio plays. Numerous performances have taken them throughout Europe to concert halls, museums, churches, temples, caves and amphitheater as well as regularly to festivals in Japan, Korea and Taiwan.
"The stunning master Vetter and his provocative genius duo partner Natascha Nikeprelevic: thos cast allone is already worth the trip. But then the program! Who has ever heard anyone communicate in overtones as accurately and simultaneously so flawless and intimately ? And again and again starting out into the adventure of strange transverbal art. What a vocal Encounter! Nowhere proves itself more understandable what Michael Vetter means when he speaks of the "afterlife" of languages. "(Ars Acustika, Berlin, TAZ)
As the world's first Duo Nikeprelevic & Vetter realized the premiere of "POLE for 2" for voices and shortwave radios by Karlheinz Stockhausen in the Tonhalle Zurich. Forty years after the emergence of the composition the Duo ventured the 75-minute complete performance. In this work composition and improvisation programmatically merge into eachother and live-messages from the radio have to be integrated and transformed.
2013 Natascha & Vetter released POLE for 2 (CD 103) at Stockhausen Verlag. In August of the same year together with electronic musician F.X.Randomiz they premiered another Stockhausen work: "EXPO for 3". 2014 EXPO was released as CD 104 at Stockhausen-Verlag.
Exclusively for the movie AUSGERECHNET SIBIRIEN with actor Joachim Krol, Natascha Nikeprelevic sang the overtone song: "The Enchantment" and choreographed the hand movements of the actress playing the Shor singer in the movie.
Directed by Götz Naleppa Natascha Nikeprelevic appeared in a dual role as vocalist and spokeswoman in the radio play "Leckermänner oder Dichten in Fahrtrichtung" (G. Steinwachs, DLR). Ignaz Schick was her musical partner.
The WDR chose her accapella solo work "allOne" for the radio production: "The forgotten gospels".
At Schlosstheater Moers her musical theater "Threadline" (2011) for voice and double bass came on stage. Natascha directed and also took over the vocal part. Her duet partner on the double bass was Achim Tang.
On behalf of the WDR Radio Natascha composed a piece for mixed choir: "RE S PONS – reaction on action". In this work the mutual reactive relatedness of conductor and choir are program. The composition was first performed at the chor.com in September 2011 at the Concerthall Dortmund. Natascha conducted the choir herself while singing the solo voice part.
"It started with the premiere of RE S PONS. Artists were part of the Radio Choir WDR and the singer and improviser Natascha Nikeprelevic. Everything was improvised and made one temporarily forget to breathe. There are numerous performance artists in the world who not have the necessary vocal technique for the professional concert and opera buisiness at all. No thought of it with Natascha! She encouraged the choir to unheard sounds and vocal reactions Natascha Nikeprelevic is a wonderful artist. Her "head arrangement" worked perfectly. "(Wolfgang Layer, Chairman of the Choral Association)
The WDR Broadcasting Company Cologne chose her interpretation of the solo work for accappella voice: "allOne" as a soundtrack for the production: "Forbidden Gospels".
2005/2006 and 2009 Natascha was an Artist in Residence at the University of Arts in Taipei, Taiwan. With concerts and workshops, an one-hour television interview in Taipei DA AI Television and seminars at the Dharma Drum Buddhist University, she attracted much attention. Her skills, particularly in the field of overtone singing led the University of the Arts in 2009 to produce the DVD "The Dao of Overtone Singing". This contains a recording of her solo performance and her one-week double-seminar with 60 participants.
In addtion to a very active international concert program, Natascha holds regular workshops and masterclasses throughout Europe, the Far East and Canada. She is teaching voice improvisation, overtone singing and structural theatre.
Most recently, she was at the Academy of the Arts Taipei, Department of Theatre – University of Siegen, Dp: Composition – University of Cologne, Dp: Musicology – Music Academy Leipzig, Dp: Improvisation – Musikhochschule Luzern, Dp: Jazz – University of Ottawa, Dp: Performance Art – Humboldt University Berlin, Dp: Theology – Music Conservatory Stuttgart, Dp: Musictheatre and at the Conservatorio di Musica Valencia, DP: Composition.