Listen & buy:

digital tracks (Selection)
> Solo voice & instruments
Music for koto harp – digital track
AWAY for overtone voice and japanese koto harp. At night, when everyone is asleep, the tones carry me quietly across the stars into the big infinite space… . "away" for overtone voice and japanese koto harp was sung and played in the cracks of time between now and eternity.
>away kaufen
SUBWAY for voice and koto harp. During her Japan concert-tour Natascha spent a month in Kyoto. Besides visiting shrines and temples she learned to play the japanese koto harp. The sound of the Koto is a symbol of solitude, harsh beauty, concentrative force.
> subway kaufen
Music for voice & tambura – digital track
TOWARDS THE LIGHT is an overtone aria about reflecting and developing the inner music of just one note in order to show the richness within a strict reduction.
> Towards the Light kaufen
RECITAL for overtone voice accompanied by a tambura. Live-concert in a church with natural accoustic. no edits – no overdubts.
> RICITAL kaufen
> LABYRINTH kaufen
CD´s

CD EXPO for 3 (2014)
Label: Stockhausen Verlag. // Release: 15.5.2014
Stockhausen Edition no. 104 // 30 Tracks
Duration: 77:00
Karlheinz Stockhausen: Composition
Natascha Nikeprelevic: voice, short-wave receiver, harmonica, megaphone, cow-bell
Michael Vetter: voice, short-wave receiver, recorder, harmonica
F.X.Randomiz: electronics, short-wave receiver, voice
Kathinka Pasveer: sound engineering
In October 2008, Michael Vetter and I were the first duo in the world to realise the integral world première of POLE for 2 for voices and short-wave radios by composer Karlheinz Stockhausen. For our EXPO interpretation, we wanted to add an electronic component to our vocal emphasis in POLE. For this purpose, the laptop musician F.X.Randomiz joined us, and we rehearsed this neglected work, composed by Stockhausen in 1969/1970, for almost six months. The improvisational combination of voice and electronic-synthetic sounds in the context of the cybernetic plus/minus score not only adds a new musical dimension to the interpretation, but also expands the wealth of performance possibilities on both sides in regard to mutual inspiration. It was important for us not to sample the two voices (Vetter/Nikeprelevic) and not to modify them with live electronics in any way. Voices and electronics stood face to face in their pure forms and even more: Our artistic approach was to make the voices sound electronic and to have the electronic sounds take on the more acoustic characteristics of the human voice. This way, a sound-mixture evolved that made it difficult to differentiate between the vocal and the electronic sounds. The two vocalists were challenged – even more than in POLE – by embellishing their voices with noise-like elements and to come as close as possible to electronic sounds. And F.X.Randomiz was faced with the task of coaxing the warmth, dynamics, flexibility and natural imperfections of a human voice out of his digital-electronic instruments. In addition, each of the three players had a radio, which, like a 'secret' performer, wove itself into the pattern of voices, noises and digital-electronic sounds. (Text by Natascha Nikeprelevic)
CD POLES for 2 (2013)
Label: Stockhausen Verlag. // Release: 1.2.2013
Stockhausen Edition no. 103 // 7 Tracks
Duration: 74:30
Karlheinz Stockhausen: Composition
Natascha Nikeprelevic: voice, short-wave receiver, harmonica
Michael Vetter: voice, short-wave receiver, recorder, harmonica
Kathinka Pasveer: sound engineering
As the world's first duo Michael Vetter and Natascha Nikeprelevic realized in October 2008 at the Zurich Tonhalle the premiere of "POLES for 2" for voices and shortwave radios of composer Karlheinz Stockhausen. Forty years after the origins of the composition the duo ventured the 75-minute overall performance. In "POLES" composition and improvisation in programmatic interaction mesh and live recordings from the radio must be integrated and transformed.
The CD no. 103 provides a live recording without cuts and corrections. A booklet with texts of the two musicians gives an insight in the work process. The print of the score including Vetters slightest detail parameter assignments of the 213 events one allows an accurate reading with the score.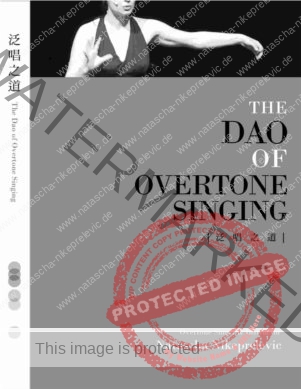 DVD The Dao of Overtone Singing
Workshop-Documentary & Solo Performance: allOne. University of the Arts Taipei
Duration: 84:00
Language: English (chinese subtitles).
Buy the DVD here: only a few copies available.